Sicilian Meatloaf  is scrumptious comfort food that's easy enough to make for family dinners, yet impressive enough to make for guests.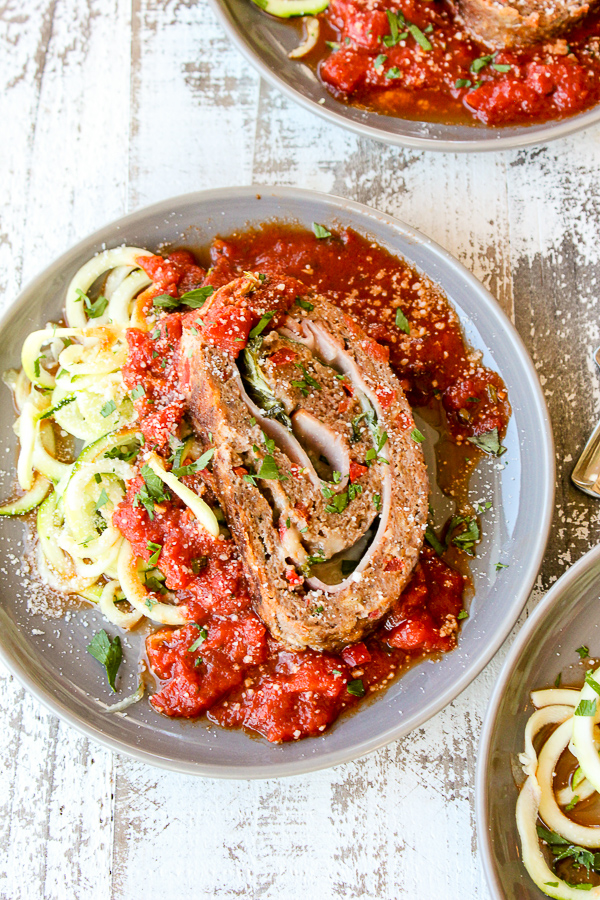 Growing up, I was not a huge fan of meatloaf.  My mom would make it from time to time, but it was not necesarily my favorite meal. 
Now, don't get me wrong, there was nothing wrong with her meatloaf.  She made a very traditional meatloaf with either saltine crackers or oatmeal and then the usual egg, ketchup and onion.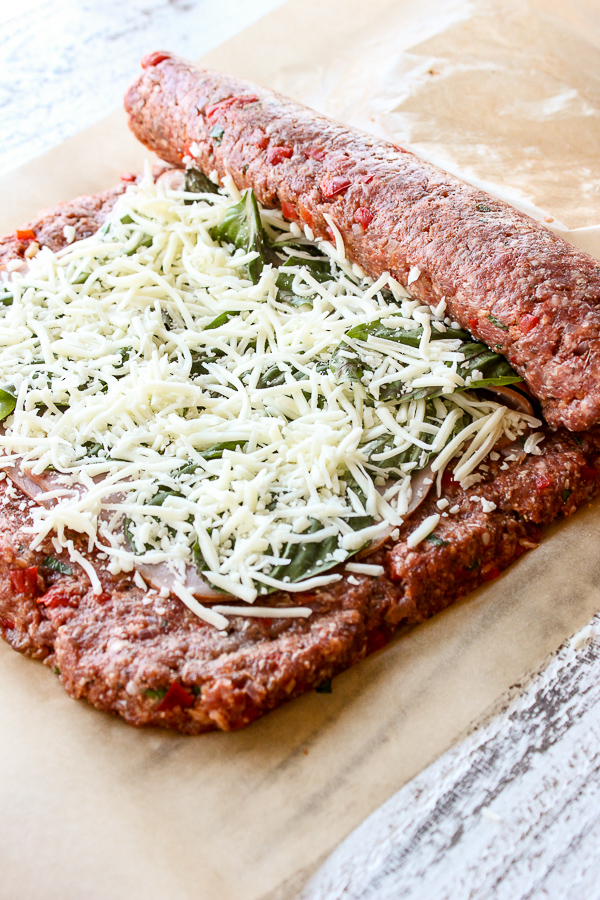 When I got to be a little bit older, my Dad would make Sicilian meatloaf occasionally.  This meatloaf was filled with ham and mozzerella cheese and rolled up like a jelly roll. 
This one was more to my taste and always felt like a special meal, probably because it looked like it was really hard to make, but read on, it's not.  I always looked forward to the times he made this dish.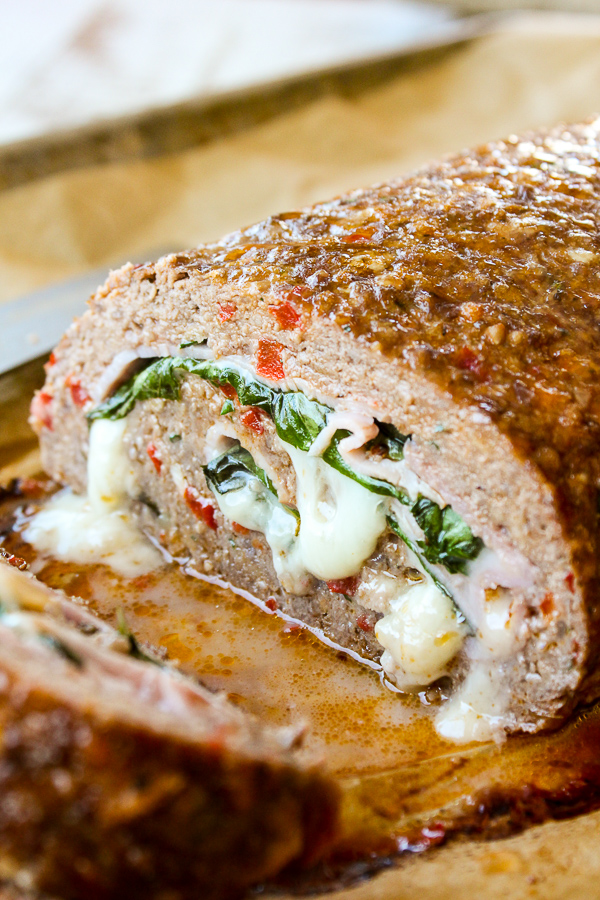 A number of  years ago, I decided that I needed to make my own version of Sicilian meatloaf.  What I came up with is a meatloaf that has all of the same flavors as an Italian meatball.  As you may expect, this meatloaf has Italian breadcrumbs, eggs, parmesan cheese and tomato paste.
To give the meatloaf even more flavor, it has onion, garlic and red pepper that's been sautéed in a little olive oil.  While adding great flavor, the veggies also help the meatloaf  stay nice and moist. 
Finally, it's flattened out and topped with deli ham, shredded mozzarella cheese and basil, then rolled up like a jelly roll.  It's absolutely delicious served with pasta or zucchini noodles, then topped with marinara sauce and extra parmesan cheese.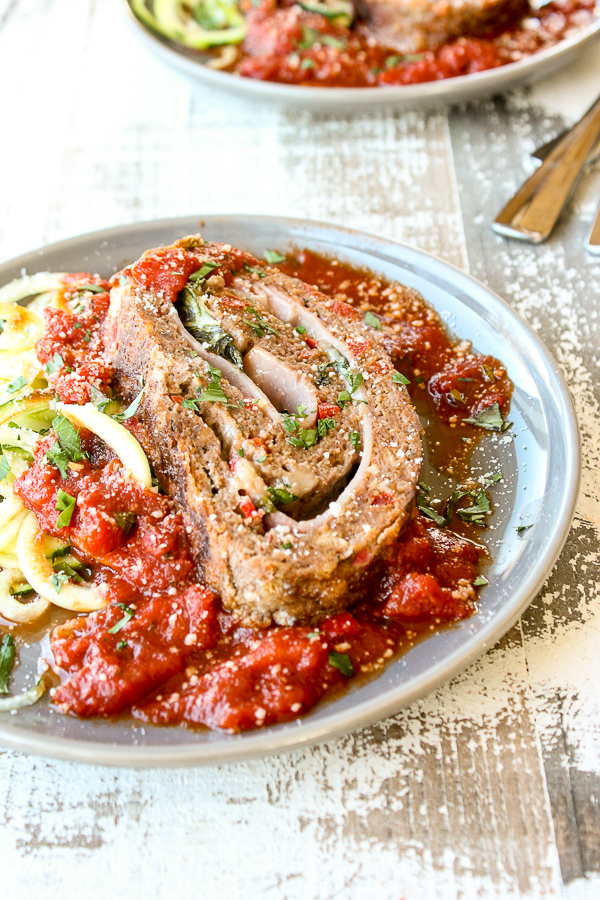 This is definitely a great family meal, but it's also perfect for entertaining.  The meatloaf can be assembled early in the day and then popped in the oven about an hour before you're ready to eat.  
Serve the meatloaf over pasta or zucchini noodles along with your favorite pasta sauce, some crusty bread and a tossed salad.  Your guests are sure to rave about it.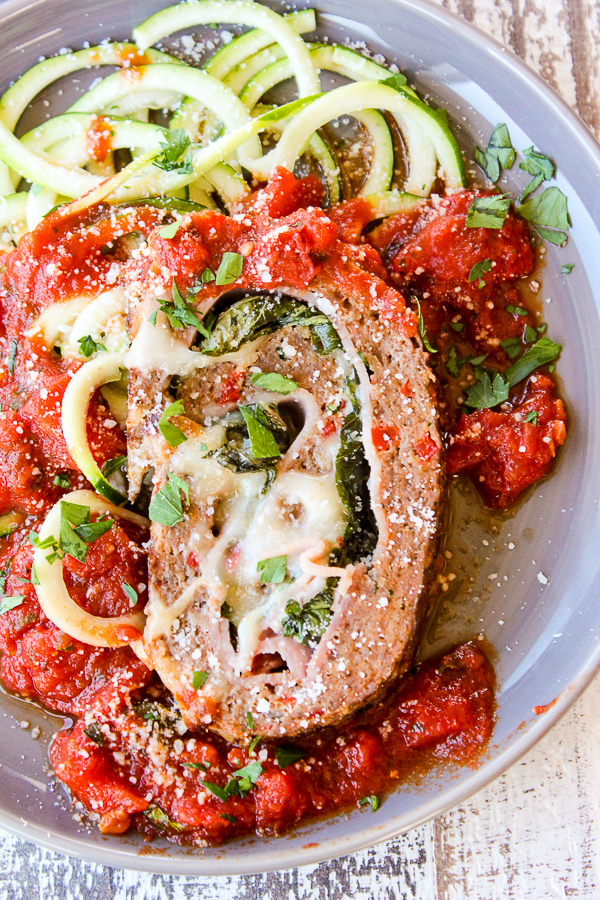 Yield: 8
Sicilian Meatloaf
Sicilian Meatloaf  is scrumptious comfort food that's easy enough to make for family dinners, yet impressive enough to make for guests.
Additional Time
40 minutes
Total Time
2 hours
10 minutes
Ingredients
1 tbsp olive oil
1 red bell pepper, finely chopped
1 small red onion, finely chopped
2 cloves garlic, minced
2 lbs ground beef
3/4 cup Italian style breadcrumbs
1/2 cup parmesan cheese
2 eggs
2 tbsp tomato paste
1 tsp salt
1/2 tsp pepper
2 tbsp parsley, chopped
about 1/4 lb deli ham
12-15 large basil leaves
1 1/4 cup either shredded mozzarella cheese
marinara sauce
cooked pasta or zucchini noodles, if desired
Instructions
Preheat oven to 350 degrees.
Heat olive oil in a medium skillet over medium heat.
Add onion and red pepper.
Sauté for about 5 minutes, until onions are translucent.
Add garlic and cook until garlic is fragrant.
Remove from heat and allow to cool slightly.
In a large mixing bowl, add ground beef, bread crumbs, parmesan, eggs, tomato paste, salt, pepper, parsley and vegetable mixture.
With your hands, mix until everything is well combined.
Take a large sheet of parchment paper and lay it out on the counter.
Place your meat mixture in the center.
Pat mixture out to form a rectangle about 8"x15".
Top rectangle with a layer of ham, a layer of basil and then a layer of cheese, leaving a 1 inch border all around.
Starting at the 8 inch end, roll the meatloaf up, jelly roll style, using the parchment paper to help guide you.
Press down on top seam to seal and press the ends together to seal as well.
Place on a baking sheet lined with parchment paper.
Bake for 1 hour in preheated oven.
Remove from oven and allow to rest for 10 minutes before slicing.
Serve topped with pasta or zucchini noodles, if desired and top with marinara sauce.
Nutrition Information:
Yield:
8
Serving Size:
1
Amount Per Serving:
Calories:

502
Total Fat:

28g
Saturated Fat:

11g
Trans Fat:

1g
Unsaturated Fat:

13g
Cholesterol:

167mg
Sodium:

876mg
Carbohydrates:

18g
Fiber:

1g
Sugar:

3g
Protein:

43g
ENJOY!