Who doesn't love breakfast sausage? It's the perfect way to round out any breakfast and actually make it satiating! When I stopped eating carb bombs like big bowls of sugary cereal, bagel smothered in cream cheese, and syrup covered waffles, I turned to eggs and breakfast sausage. I love a crispy, delicious breakfast sausage! However, by the time I got to wanting to enjoy breakfast sausage, it was too little too late. Most conventional sausages are made with nightshade spices, unwanted fillers, or just aren't the best quality. That's why I created these Breakfast Sausage Sweet Potato Chicken Poppers have all of flavor and none of the unwanted junk!
Not only are these breakfast sausage patties filled with good ingredients, but they're egg free and perfect for making ahead. Can I get an amen? Egg free breakfasts aren't easy, and make ahead breakfasts that are junk free are even harder! Typically, most make ahead breakfasts are super grain heavy, or just aren't that satiating. I'm sick of make ahead bags of smoothies in my freezer! Give my something with some substance that I don't have to prep every single morning.
These sausage patties aren't your average breakfast. In just one little popper, you get sweet potato, spinach, apple, bacon, and flavorful herbs! So good and full of flavor, you don't even need a maple syrup-y sauce.
What You'll Need To Make The Breakfast Sausage Poppers
Ground Chicken (or Turkey)
Using a good quality ground chicken like pastured chicken is typically how I make these poppers, but turkey works just as well too! Use what you have on hand or whichever flavor you prefer.
Shredded Sweet Potato
Shredded sweet potato is the main base of these poppers as they're based off of my popular Sweet Potato Chicken Popper recipe. I use a grater to shred the sweet potato, however, you can also use a food processor or even buy riced sweet potato from the store! I like the shredded texture best, but both methods work. You can also sub carrots if you
Bacon
The bacon helps add flavor and more of a breakfast feel to these sausage poppers! The bacon is optional, but IÂ recommend it!
Spinach
Spinach helps add some more nutrients to these guys with a flavor that isn't overpowering, and a texture that isn't harsh. If you want to sub another green like kale or arugula, just know that it will change the flavor and the texture. I think spinach works best!
Apple
Apple in sausage is such an awesome flavor! If you don't do apple for any reason, you can easily sub more sweet potato instead of apple. As for what kind of apples, granny smith and pink lady work best, but you can experiment with others.
Coconut flour and oil
Coconut flour and oil help bind these together, and make them crispier. If you don't do coconut, you can sub other flours like cassava or almond flour if you tolerate it, but I think coconut flour produces the best flavor, especially if you use this brand!
Now! Let's sit down with a nice hot cup of coffee or a green smoothie and get to enjoying some fresh, flavorful breakfast sausage…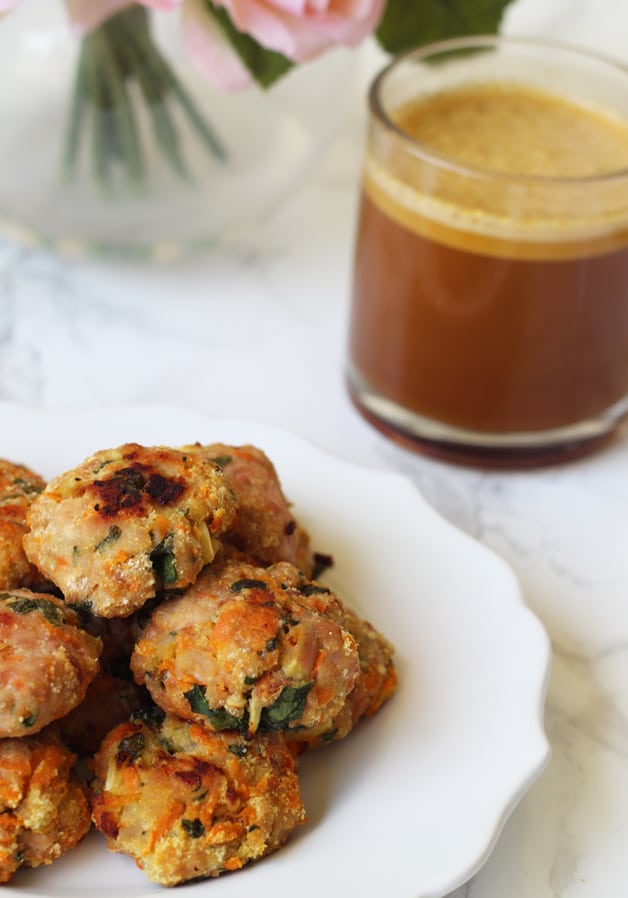 Print
Breakfast Sausage Sweet Potato Chicken Poppers (Paleo, Whole 30, AIP)
---
Scale
Ingredients
1

lb ground chicken (or turkey)

1 cup

shredded sweet potato

1/2 cup

spinach, finely chopped

1/2 cup

apple, finely diced

2

–

3

slices of bacon, finely diced

2 tbsp

coconut oil

2 tbsp

coconut flour

1 tsp

ground sage

1/2 tsp

sea salt

1 tsp

rosemary
---
Instructions
Preheat the oven to 400 F and line a baking sheet with parchment paper
Take the raw sweet potato and squeeze it with a paper towel or cheese cloth to remove any excess liquid
Using a large mixing bowl, combine the chicken, sweet potato, spinach, apple and bacon and mix to thoroughly combine
Add the coconut flour, coconut oil, and seasoning, and combine
Begin rolling the mixture into small poppers about one inch in diameter (you'll have about 20-25 poppers) and slightly flatten each of them with the palm of your hand. Place them on the baking sheet
Bake in the oven for 25-28 minutes, flipping half way through
Crisp further in a pan or place under the broiler if desired for 1-2 minutes to crisp further
Remove from the oven when thoroughly cooked through
Allow to cool and serve immediately, or store in the fridge or freezer as a make ahead breakfast
---
Notes
ALL INGREDIENTS ARE RAW.
PLEASE SEE ABOVE FOR SUBSTITUTIONS WITHIN THE BLOG POST.
How easy is that? You're just 30 minutes or so away from having breakfast prepped for the week. I would still pair these poppers with a breakfast salad or some roasted veggies if you're trying to round out the meal, but these poppers on their own do a ton of the heavy lifting for a complete breakfast.
Happy back to school, and enjoy! Don't forget to snag my free Paleo Back To School Meal Plan for more fun ideas like this one!