This easy kimchi fried quinoa recipe uses just 5 ingredients and is ready in less than 10 minutes. It's a perfect side dish or used as a base for stir fry!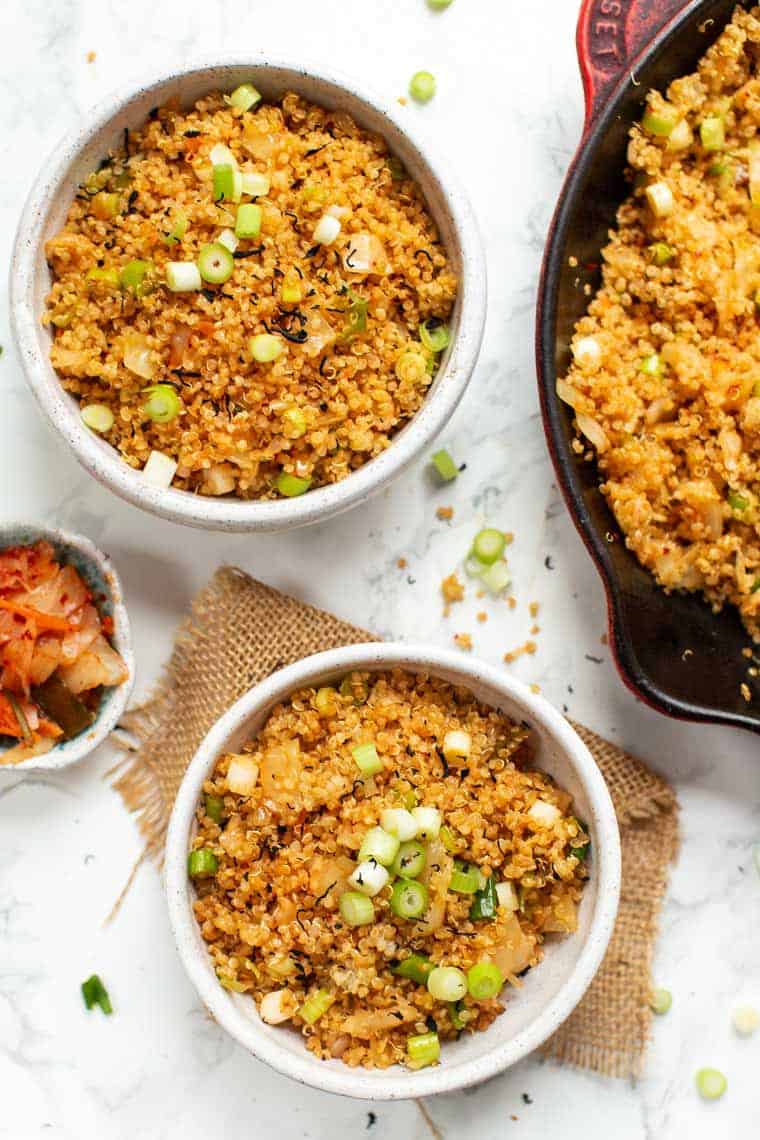 We're all about quick and easy here at SQ. So when things come together in under 10 minutes and use just 5 ingredients, you know it's a keeper.
Today we've got just that. A recipe for kimchi fried quinoa that is crazy simple and crazy fast.
Whether you're looking for a tasty side dish, want something new to serve with your favorite stir fry (because let's get real, white rice can be pretty dang boring), or you just have some kimchi that's been sitting in the back of your fridge and you don't know what to do with it, this recipe has you covered.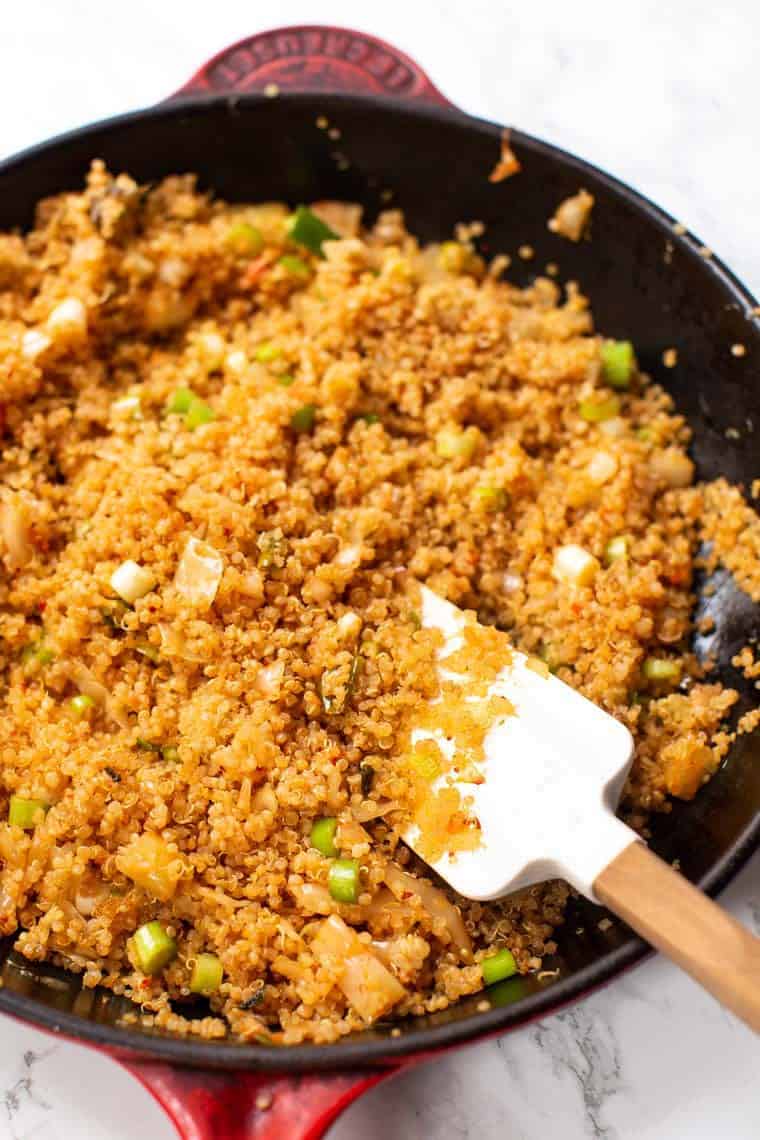 Why is Kimchi Healthy?
First, let's talk kimchi! Kimchi is a classic side dish in Korean cuisine that is made by fermenting vegetables in a spicy Asian-inspired seasoning. To me, it's a more interesting variation of sauerkraut.
Kimchi is one of those foods that has been dazzling the health world for the last few years. All the health experts love it, but I don't think it has quite broken through. Because kimchi is fermented, a lot of people find it a bit funky tasting. Hence why you might have a half eaten jar sitting in the back of your fridge.
Kimchi is healthy for a few different reasons:
It's fermented which means it's packed with probiotics which are healing to the gut
It's made with nutritious veggies
The spices aid in digestion as well
Plus, once you get used to the taste, it's pretty freaking delicious!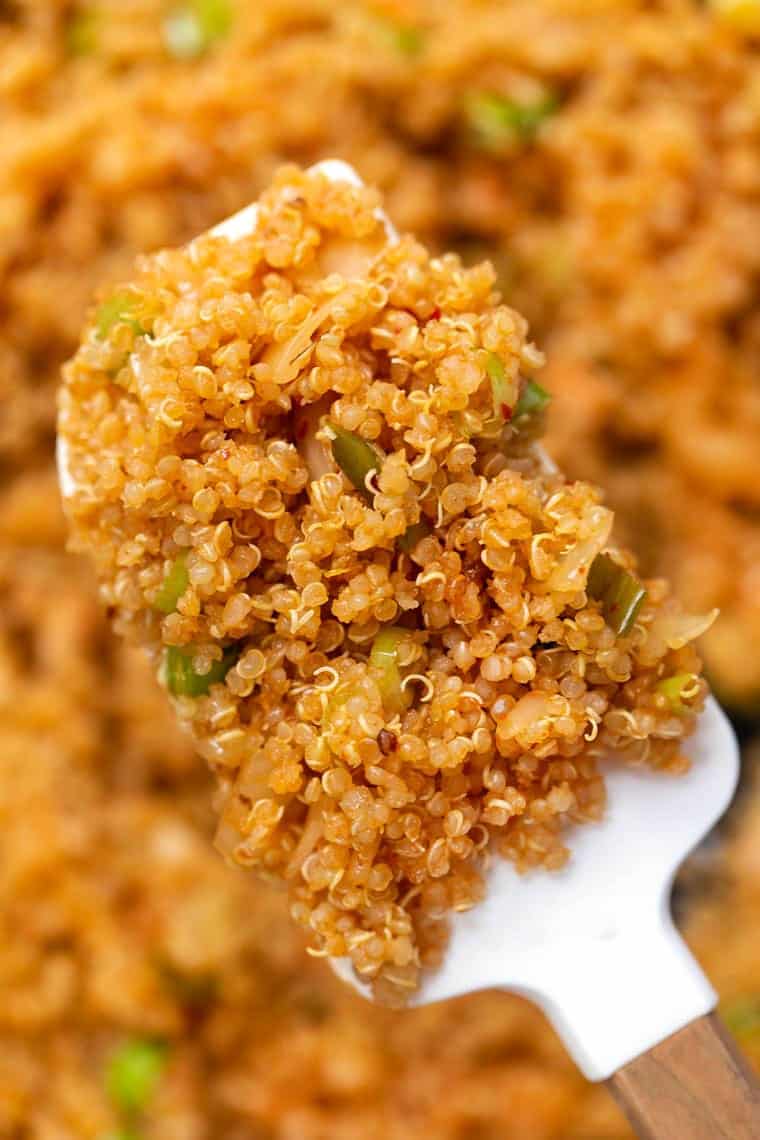 How to Make Fried Quinoa
Making fried quinoa is actually really simple. You're essentially just sauteeing cooked quinoa with whatever other ingredients you want so it gets a little crispy. As long as you've got cooked and cooled quinoa, this won't take any more than 7 – 8 minutes to cook.
What's great about quinoa is, similar to rice, that it's got a pretty plain flavor. That means no matter what you put with it, it will soak it all up.
For this recipe, we're keeping things on the Asian-inspired path and using toasted sesame oil for cooking and wheat-free tamari to add some umami flavor. The, of course, we've got the kimchi and some fresh green onions to finish things off.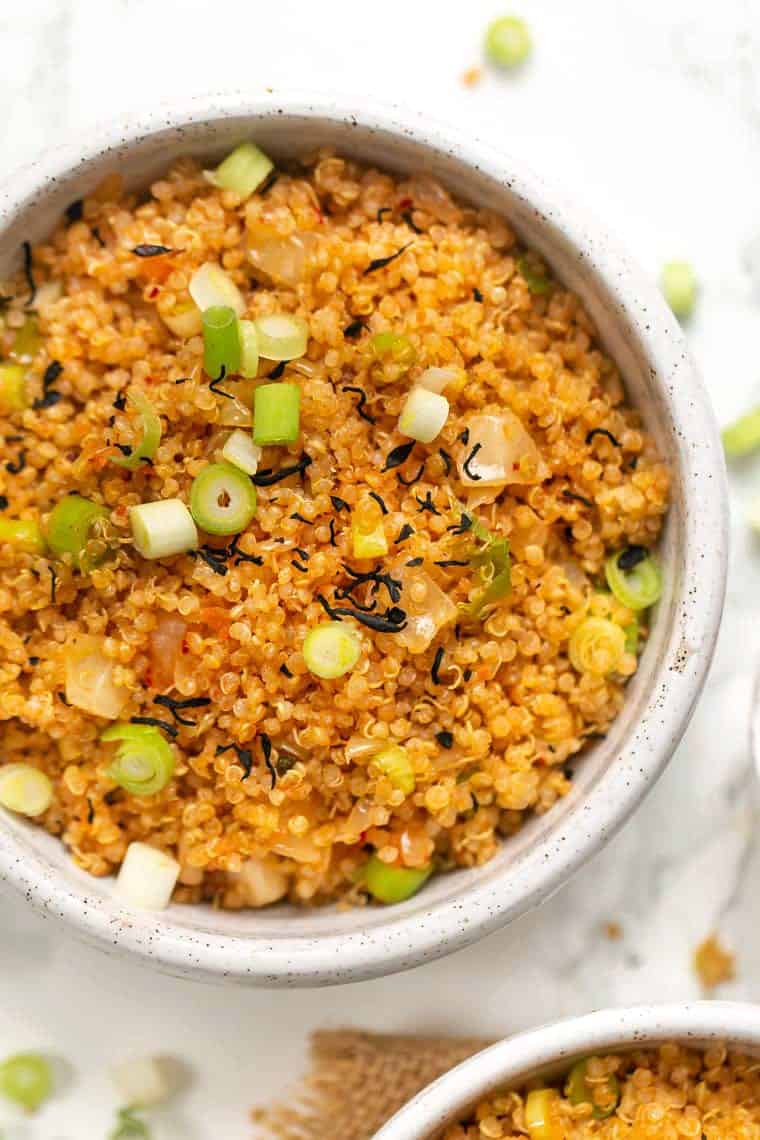 A Healthy 5-Ingredient Recipe
Since I know how much you adore simple recipes – especially recipes that use 5 ingredients or less! – I wanted to keep this one as straightforward as possible. So we really are just using 5 simple ingredients:
Cooked quinoa: you need to make sure that the quinoa has had time to cool before you cook it again or else it will get sticky and gloopy
Toasted sesame oil: adds a really nice nuttiness to the recipe, while also helping it get crispy
Kimchi: you can choose any variety you'd like, but make sure it's vegan if you are following a vegan diet!
Green onions: they add some bite and some crunch, while also helping to brighten things up
Wheat-free tamari: my favorite way to salt Asian-inspired recipes!
And in less than 10 minutes, it will be d-o-n-e!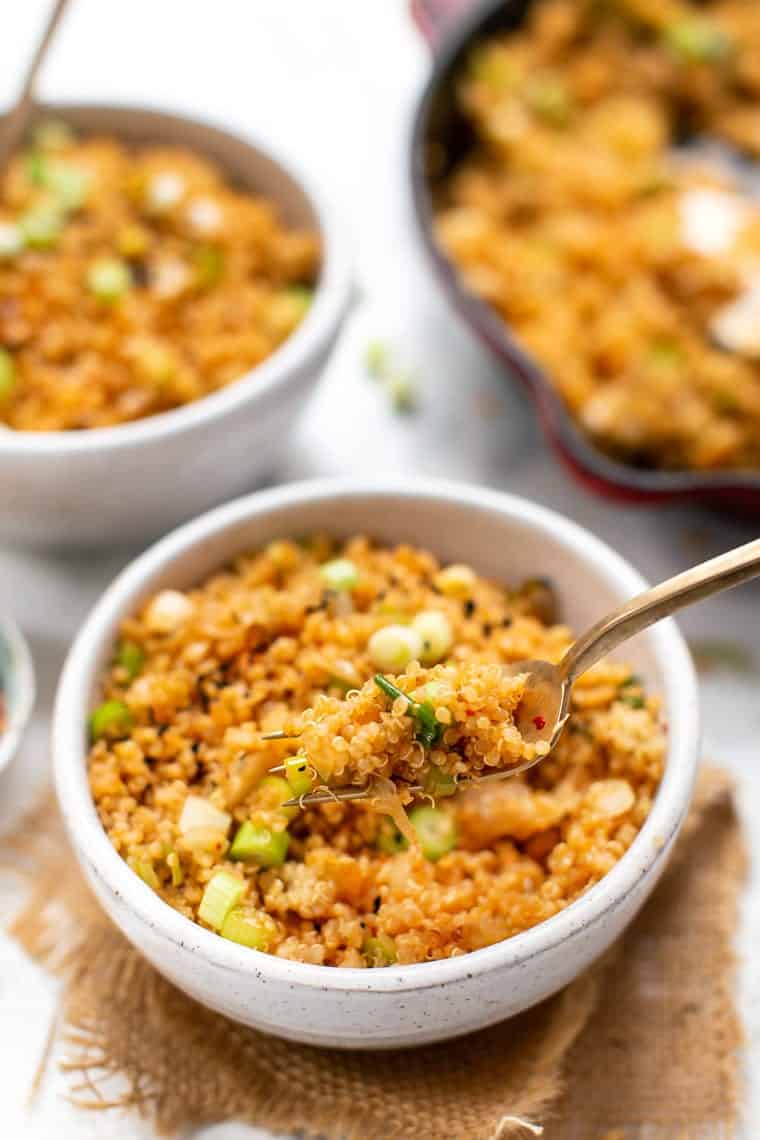 Ways to Serve Kimchi Fried Quinoa
I personally love this dish on its own, but as I mentioned earlier, it also makes a fabulous side dish. Since we are using Asian-inspired ingredients, I would recommend pairing it with other dishes/ingredients that are typical to those types of cuisines.
Here are some of my favorite ways to serve this kimchi fried quinoa:
As the base for our sesame tofu meal prep bowls
Topped with a little sauteed spinach and a fried/poached egg
Under our vegan green curry instead of the forbidden rice
With our rainbow vegetable stir fry
Mixed into our vegan quinoa sushi bowls
Or again, just as a simple side dish!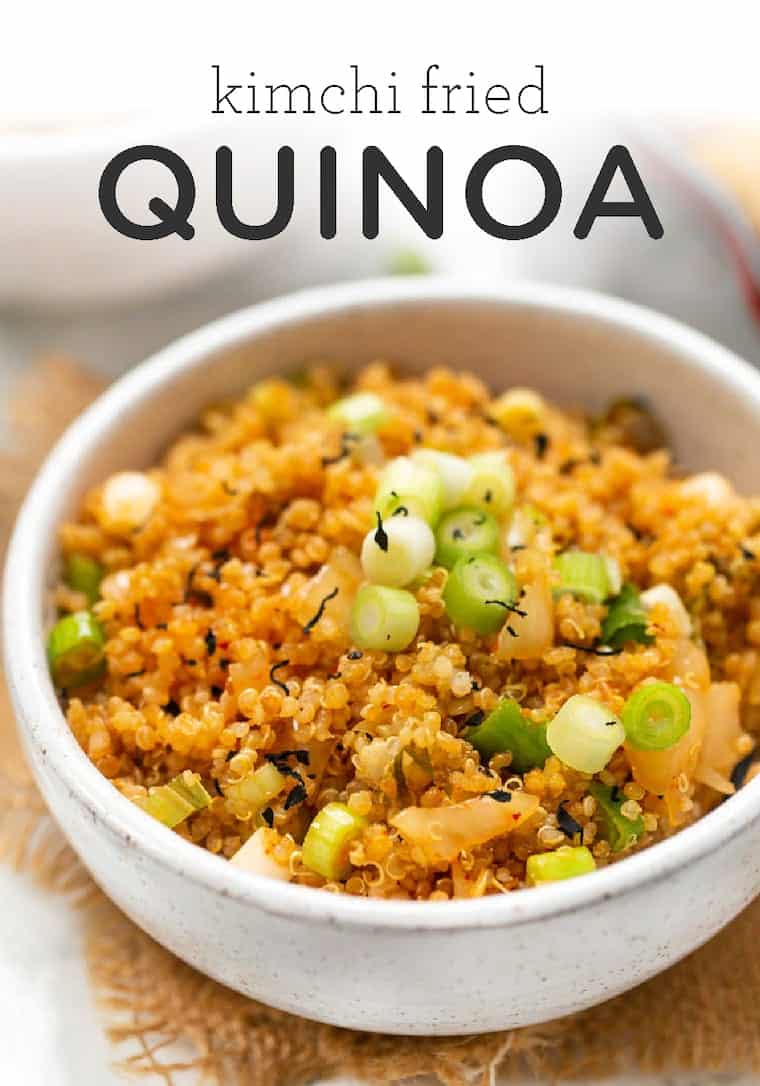 More Quick & Easy Quinoa Recipes
5-ingredient Lemon Turmeric Quinoa
10-Minute Moroccan Quinoa Salad
5-ingredient Quinoa Pizza Crust
Cilantro Lime Black Bean Quinoa Tacos
VIDEO: How to Make Kimchi Fried Quinoa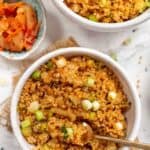 Kimchi Fried Quinoa
This easy kimchi fried quinoa recipe uses just 5 ingredients and is ready in less than 10 minutes. It's a perfect side dish or base for stir fry!
Ingredients
1

tablespoon

toasted sesame oil

3

cups

cooked quinoa

1/2

cup

kimchi

, chopped

1/2

cup

sliced green onions

1

tablespoon

gluten-free tamari

(or soy sauce)
Instructions
Heat the oil in a large skillet. Once hot add the quinoa, kimchi and 2/3 of the green onions (reserve some for garnishing). Saute for 3 minutes until the quinoa starts to brown and add in the tamari. Cook for another 3 - 4 minutes, then divide between bowls and enjoy.
Nutrition Facts
Kimchi Fried Quinoa
Amount Per Serving (0.75 cup)
Calories 204
Calories from Fat 54
% Daily Value*
Fat 6g9%
Sodium 263mg11%
Potassium 282mg8%
Carbohydrates 30g10%
Protein 6g12%
Vitamin A 125IU3%
Vitamin C 2.3mg3%
Calcium 33mg3%
Iron 2.4mg13%
* Percent Daily Values are based on a 2000 calorie diet.